Update 10:01 a.m.: macOS Monterey is now rolling out for everyone, although it may take a few minutes to show up via Software Update.
Apple's official public release of ‌macOS Monterey‌ is set to occur today (Monday, October 25), just a few days after Apple released the second release candidate to developers and a week after its "Unleashed" media event.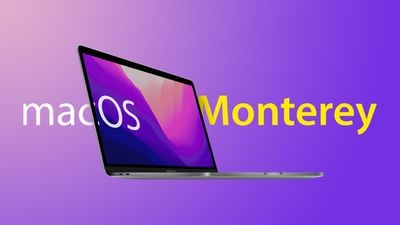 Developers are busy putting the finishing touches on their apps to take advantage of new features in ‌macOS Monterey‌ and support the new MacBook Pro models with Apple's new high-end M1 Pro and M1 Max chips and a notched display, and many users will be looking to update their Macs as soon as Monterey is available.
Although Apple has not shared an exact time for the release of ‌macOS Monterey‌, we can make some educated guesses based on Apple's localized sites for various countries and past releases.
While Apple lists the release date as October 25 in much of the world, localized sites for some countries in the Eastern Hemisphere list the launch date as October 26, as the launch time will come at or after midnight in those countries.
Notably, Apple lists a release date of October 25 on its Indian site, while its Thai site lists an October 26 release date.
Given that those two countries are 90 minutes apart by time zones, that pins things down relatively closely, pointing to a window between 8:30 a.m. and 10:00 a.m. Pacific Time. The most likely release time in that window would be 10:00 a.m. Pacific Time, which is a common release time for Apple. A release at that time would correspond to 10:30 p.m. on October 25 in India and midnight on October 26 in Thailand. This same method has accurately predicted the release times for a number of major operating system updates from Apple, including macOS Big Sur last year.
It's worth noting that Apple's release times do sometimes vary a bit and it can take a bit of time for the updates to propagate across Apple's servers and become available to all users, so the 10:00 a.m. estimate is simply that – an estimate.
Apple has also indicated that it will be releasing iOS 15.1, iPadOS 15.1, watchOS 8.1, tvOS 15.1, and HomePod software 15.1 during the week of October 25, but the company does not appear to have specified an exact day for those releases. There are some cross-platform features that means it would be logical for Apple to release all of its updates at the same time, but we'll have to wait and see what Apple's plans are.
There are of course no guarantees Apple will stick to its usual release timing with ‌macOS Monterey‌, but given our best guess of 10:00 a.m. Pacific Time release, here's a breakdown of what that corresponds to in other time zones in the United States and around the world:
‌macOS Monterey‌ is compatible with many of the Macs that were able to run macOS Big Sur, but it drops support for some older MacBook Air and iMac models from 2013 and 2014 as well as the 2015 MacBook. Compatible machines are outlined below:
For all of the details on what's new in ‌macOS Monterey‌, make sure to check out our roundup which offers a thorough look at the updates to key apps, visual changes, and other new features.

Read about the differences between these two new processors from Apple.
Figure out if the 14″ or 16″ MacBook Pro is the one for you.
Apple Watch SE or Apple Watch 7 – which one to get?
App Privacy Report, Legacy Contact, Apple Music Voice Plan, and many more changes!
New high-end model will move from Intel to Apple silicon.
Updated AirPods Pro could see some design changes like elimination of the stem.
The next-generation MacBook Air refresh coming in 2022 will see Apple introduce the biggest design update to the MacBook Air since 2010
Apple is working on a redesigned version of the larger-screened iMac that could bring back the "iMac Pro" name.
 
MacRumors attracts a broad audience of both consumers and professionals interested in the latest technologies and products. We also boast an active community focused on purchasing decisions and technical aspects of the iPhone, iPod, iPad, and Mac platforms.